Programming your Outdoor Dog Fence Transmitter
The Pet Stop® Outdoor Transmitter is designed to be easy to use and understand
A. Digital Display

Displays the fence power level and will begin to blink in the event of a wire break or power surge. In addition to blinking, the transmitter will alert you with an audible beep:
continuous beep: wire break
short beeps: power surge
Should either of these occur, contact us for further service or instructions.
B. Signal Field Adjuster Buttons:

Press "up" to increase signal field width.
Press "down" to decrease signal field width
(we recommend checking with us before adjusting the signal field width)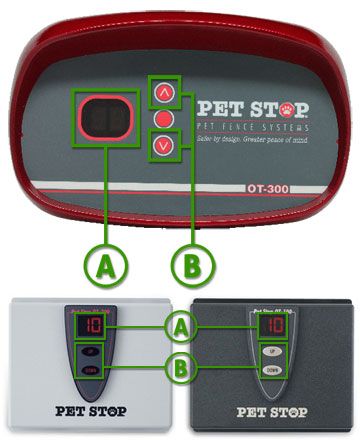 Turning your transmitter On and Off
If, for some reason, you feel the need to shut your Outdoor Transmitter down, simply simultaneously press and hold the "up" and "down" buttons.
When you want to turn the Transmitter on again, press the "up" button, and you're done! No need to reset!
**PLEASE NOTE**
Your Transmitter MUST BE ON for your Pet Stop Collar Receiver to receive a signal and be activated.