Dog Fencing
Pet Stop of Cincinnati and Dayton, Ohio is a professional dog fence company staffed with full-time, skilled pet trainers, each with years of experience keeping dogs just like yours safe and well-behaved. With our employees' pet expertise and Pet Stop's superior-quality, highly customizable products, getting a professionally installed dog fence from Pet Stop of Cincinnati is quick, easy and surprisingly affordable!
The Pet Fence Process – Pet Stop makes it easy:
1. Consultation
Our dog fence pros will evaluate your particular fencing needs that will meet the needs of your property, dog and budget too! We'll show you the unique features of our Pet Stop® products, and answer any questions or address any special concerns you may have. This is a no-pressure, no-obligation meeting. If you decide Pet Stop® is the right choice for you, your dealer will assist you in custom-designing your system.
Below are some examples of our most common layouts: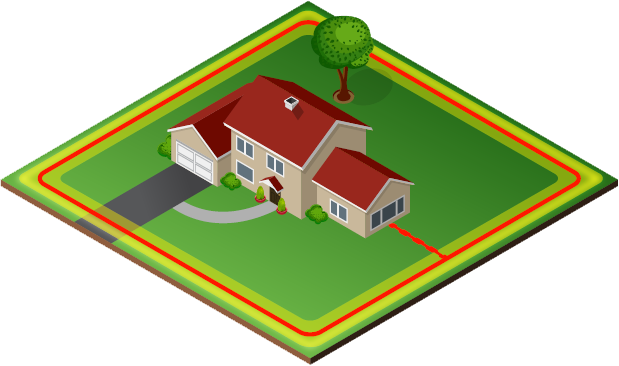 Full Perimeter Loop
Our most common layout installation is a Full Perimeter loop. This layout gives your pet free range to roam your entire yard but not leave it.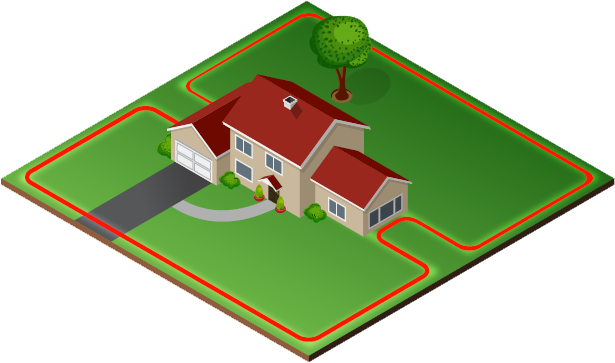 Figure 8
Also common is the Figure 8 layout. It's like the Full Perimeter loop, but with a pinch in the middle. This allows you to contain your dog in either the front yard or the back yard, it's up to you.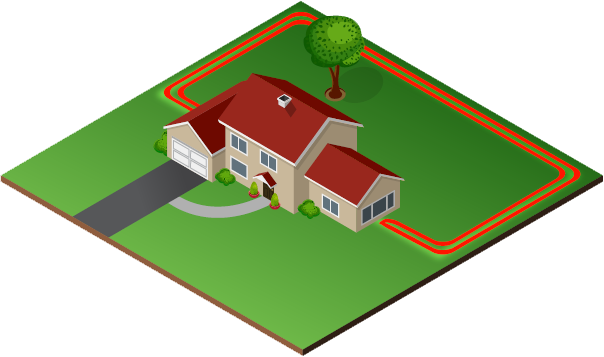 Double Loop
The Double Loop layout is used to contain only the front or back yard. It's generally only used when your property's geography won't allow for installation around the whole property.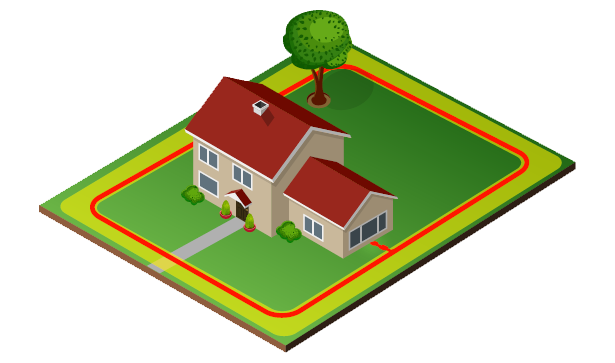 Edge-To-Edge™
Small yards are no problem at all for Pet Stop® technology. Our boundary fences offer settings to create a one-sided signal zone around the perimeter wire in order to maximize the amount of yard your pet can enjoy.
2. Installation
The dealer and their personnel will arrive on the scheduled day to install your new electronic fence system along the borders you've indicated, as well as the transmitter. From our years of installation experience, there are few dog fence installation challenges that we've yet to conquer, so you can be assured your pet will have all the room to roam and stay away from the areas that you prefer. We'll then customize the settings for your pet's size, breed, and temperament, go over the transmitter's operation with you, and provide a detailed manual for your reference.
3. Training
This is where Pet Stop® really makes a difference. Your dealer is a powerhouse of dog training knowledge utilizing the latest GentleSteps™ training process for a stress-free experience. Each one has been trained extensively by our professional staff dog trainers on how to make your pet's transition as smooth as possible.
Learn More
4. Support & Service
Once your fence is installed and your pet is trained, Pet Stop of Cincinnati won't leave you in the dark! We'll continue to provide you with superior customer service long after you buy your new electric pet fence system. Please contact us with any questions you may have or if your fence requires maintenance, and don't forget that all of our products are backed by the Pet Stop® Quality Guarantee!
Request Support