Pet Stop Products
Pet Stop® is the most advanced electric pet fencing system available on the market, utilizing cutting-edge technology, revolutionary training techniques, and the most experienced industry executives to bring you the safest, most efficient pet containment possible. We also hold more pet containment patents than all other dog fence companies combined!
Why Choose Pet Stop?
Did you know that Pet Stop® is the only electric pet fencing system that's 100% American-made?
All of our products are designed, built, and tested right here in the USA by leading industry experts who are dedicated to bringing you (and your pet) the very latest in electric pet fencing technology. In a time when most companies are outsourcing to cut costs, we've kept our business here to ensure continued excellence and reliabilty for all of our products – after all, your pet deserves the best quaility fencing products available. Why outsource when the health and happiness of your pet is at stake?
There is one very unique thing about Pet Stop of Cincinnati – you could say that Cincinnati is where Pet Stop® was born! Since the company started up back in the early 90s, Pet Stop® has been joined by leading industry experts, many of them from Invisible Fence® company, including former Invisible Fence® owner and founder, John Purtell!
UltraCare
Our competitors offer some sort of warranty to cover manufacturing defects, but only Pet Stop® offers UltraCare™! This exclusive warranty goes above industry standards by offering not only a lifetime warranty against manufacturing defects, but also protection against accidental damage.
GentleSteps
Only Pet Stop® provides the most gentle and humane dog fence training program. GentleSteps™ ensures that your pet learns their new boundary without any discomfort.
EcoLite System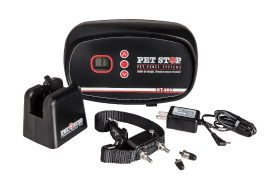 PCC-200 System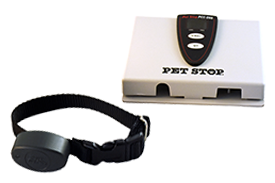 Indoor System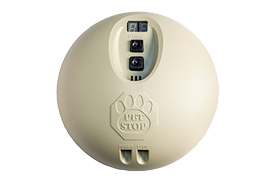 EcoLite's environmentally friendly built-in
rechargeable
power pack lasts up to 25 years. Now you'll never have to worry about running out of costly batteries. It's incredibly small and lightweight, weighing just under an ounce. EcoLite's small size makes it the ideal choice for small dogs, yet is effective for even the biggest of breeds.
With the EcoLite System, you'll save an average of $800 on batteries over 10 years!
Pet Stop® Pet Fence Systems Receivers
UltraTuff Receiver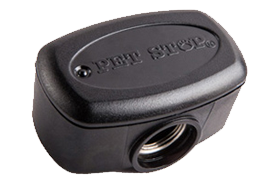 UltraMax Receiver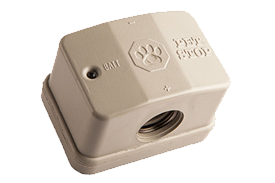 The only receiver built to take everything a dog can dish out! You count on your dog's fencing system to provide safety for your dog and peace of mind for you. That's why only Pet Stop® protects our sensitive electronics with the industry's toughest, most durable case constructed with a special blend of thermoplastic. With twice the wall thickness of lesser fencing systems, Pet Stop® provides superior chew resistance, protection from water, dirt and all the tortures that come with hanging around with your dog in the rough and tumble world he lives in!
Accessories
PowerWizard™ Outage Protection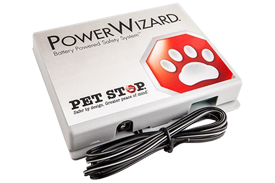 Replacement Batteries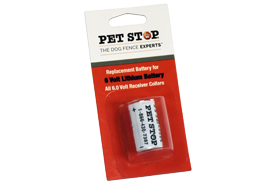 When the power goes out, your Pet Stop® system stays on. That's because the PowerWizard® incorporates circuity that couples to a battery to supply power to the transmitter for hours up to days, depending on the battery your Dealer selects. Simply a great way to ensure that your system stays operational regardless of the environmental conditions.
Invisible Fence® Compatible
If you're an Invisible Fence® brand containment system owner and you feel trapped with the high cost of maintenance and replacement parts, think again! Save up to 50% on replacement receivers, transmitters, batteries and more with Pet Stop®. Replacement fencing parts from Pet Stop® offer OEM quality components at a fraction of the original cost. Why pay more?